Locksmith in Brampton
After Hour Brampton Locksmiths What to do when you're locked out!
Consider the following scenario:
Locksmith Brampton Provide 24 Hour Locksmith Services Call Now: 647-330-7919
You have been out for a fun night in Brampton only to return home in the dark and realise you can't find your door keys. What do you do? Your first thoughts might be to call a relative who has a spare key and come and let you in, but at 2am your call may not receive a warm welcome! You could call the police or wake up your neighbour if they have a spare key, but the police are not really the ideal ones to help you in that situation, and your neighbour might also not appreciate being woken in the middle of the night. Wouldn't it be a far better idea to call someone who could have you inside within the hour?
Other similar scenarios that could happen include:
You have not lost your keys, but as you put your key in the lock of your door you find that it will not work, either because the lock is damaged or the key is worn or bent; or perhaps the key snaps and gets stuck in the lock.
You drive to your business premises and find you cannot get into the office either because the keys are inside or you have left them at home, and it is too far to go and get them.
Who amongst us at some stage has not locked the keys in the car? We may have even tried the 'coat-hanger trick' to try and latch onto the door locks and yank them up to open the door.
It's even possible to find yourself locked IN the house, because someone has locked the deadbolts from the outside and you can't find a spare key.
What you really need in these situations are the services of a reliable Brampton emergency locksmith. Did you know that Xpress Locksmiths are available to attend to lockouts 24/7? Xpress Locksmith Brampton are able to rapidly respond and have you inside your home, business premises or car within an hour of your call.
Xpress Locksmith Brampton provide their emergency locksmith service to get you inside (or outside if you're locked in!) as soon as possible, within 30kms of the Brampton ON. They are also able to repair or replace your existing locks if required.
Xpress Locksmith Brampton offer their 'Emergency Locksmiths Brampton service 365 days per year with all calls being answered by a staff member. They also are able to provide an onsite key-cutting service, and transponder keys and car programming, which helps save time and money from going to the dealer to get a blank key and for car re-programming.
Of course Xpress Locksmith Brampton also offer other locksmithing and security services. These include expert advice on all your security needs and installation of locks and security devices.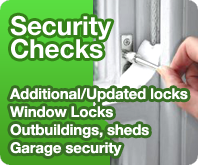 These services include:
For domestic security: locks for all types of doors, patio, sheds, garages and windows, as well as alarm systems. Xpress Locksmith Brampton are able to come and install new locks, repair damaged ones and provide a rekeying service.
For commercial properties: security door locks, restricted master key systems, commercial-grade door locks, levers, handles and closers, door blocker plates, padlocks and gate locks, access control, CCTV, security alarms and surveillance systems, window grilles, cameras, safes and filing cabinets.
All Xpress Locksmith Brampton services come with the Master Locksmiths professional guarantee. Call today for to speak to a professional security expert about your locksmith and security needs for your home, workplace or vehicle.